4.50CT CARAT GENUINE WHITE & BLUE DIAMOND TENNIS BRACELET 18CT GOLD VALUATION AS PICTURED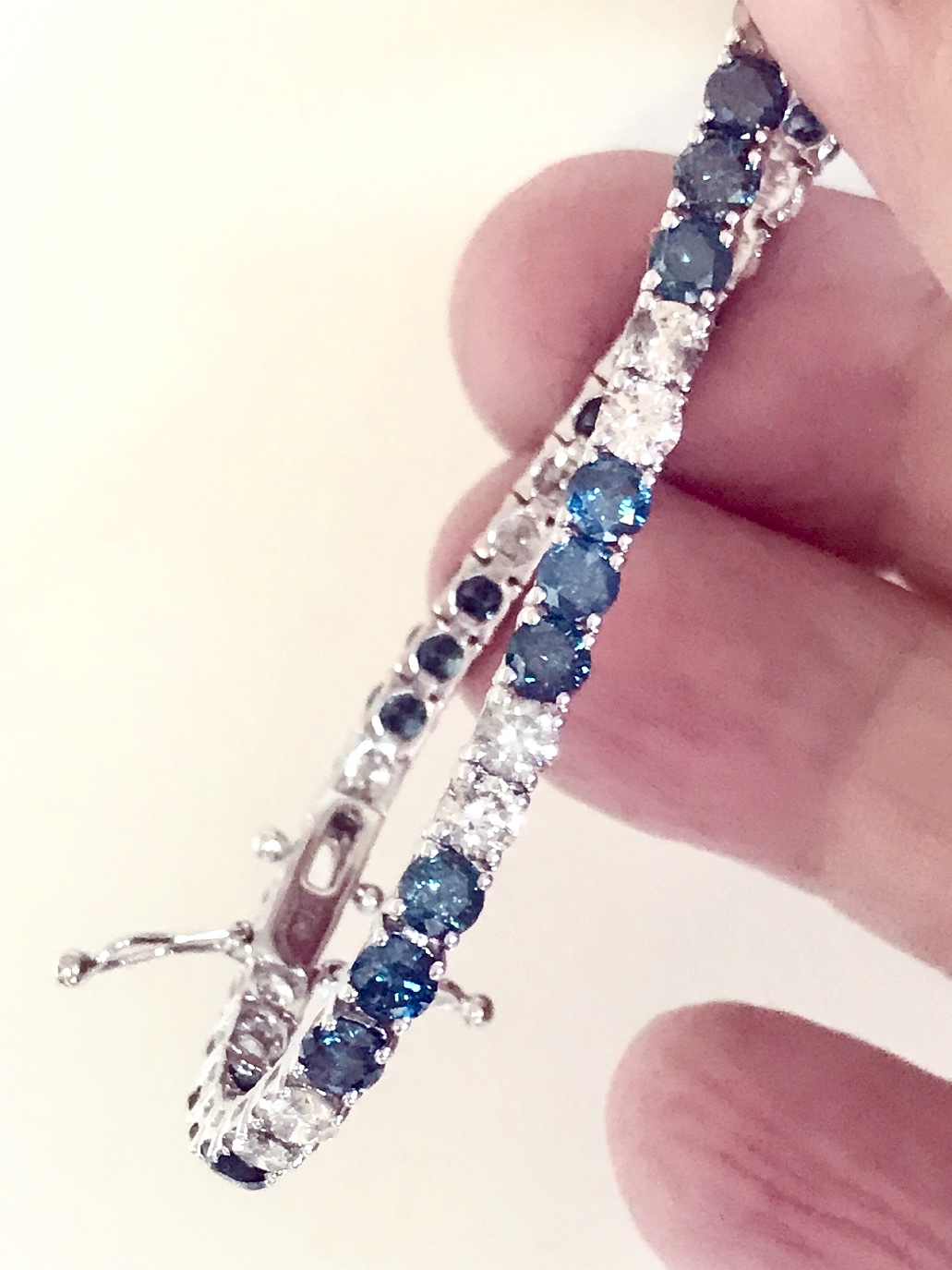 4.50CT CARAT GENUINE WHITE & BLUE DIAMOND TENNIS BRACELET 18CT GOLD VALUATION AS PICTURED
Stunning 4.43ct Blue & White Diamond Tennis Bracelet
Very Sparkly Diamonds on offer here!
This is a unique and attractive piece that features sparkly White Diamonds combined with sea Blue Diamonds.
Featuring almost 4.50 carats (4.43ct) of genuine diamonds set in 18ct white gold and stamped 750 (solid, not plated or filled). Each diamond is securely set with 4 claws and the bracelet has 2 x figure 8 safety clips, so you can wear it with confidence every day!
There is a total of 31 x diamonds in this piece that measures approximately 18cms long, so it will fit a medium to large wrist and it can be easily altered for ladies with a small wrist or just let it dangle.
The diamonds in this bracelet are super sparkly. The White Diamonds are graded colour K-TLB (tinged light brown) and they are combined with 'Fancy Blue' Diamonds. The clarity is graded I1-I2 and this bracelet is brand new. It is a solid piece that weighs 9.63 grams.
The sale includes an Australian Valuation Certificate with a Retail Replacement Value of $12,840. I suggest you check out the prices in stores, and then rush back here for a true bargain!!
It will be sent in a gift box via Express post free of charge within Australia.
RETURNS
WE HAPPILY ACCEPT RETURNS WITHIN 7 DAYS OF RECEIPT FOR ANY REASON. PAYPAL, EFT & CREDIT CARD ARE ALL PAYMENT OPTIONS.