MASSIVE 2CT DIAMOND RING 3-IN-1 WIDE BAND BLING VALUATION $9,560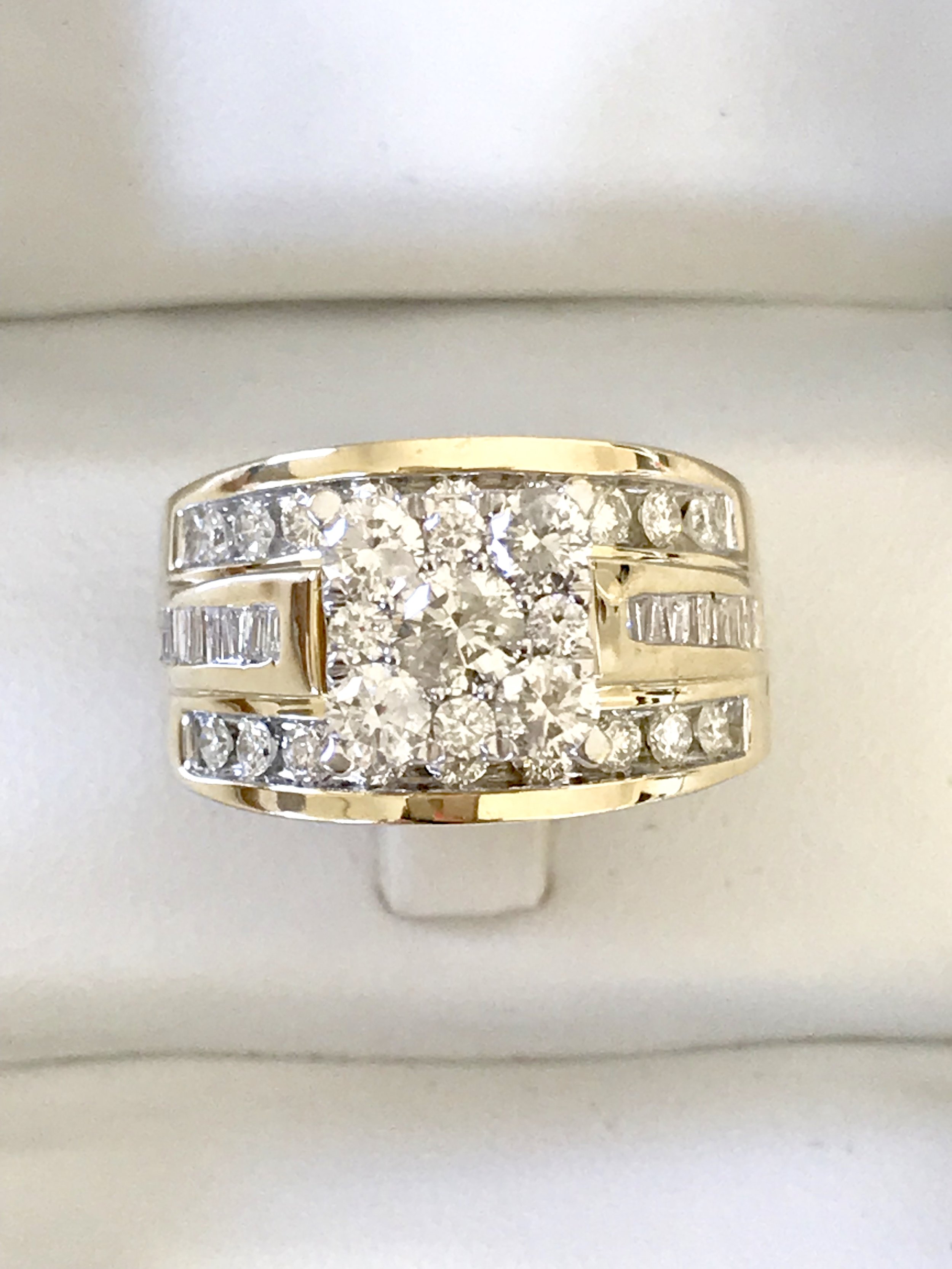 MASSIVE 2CT DIAMOND RING 3-IN-1 WIDE BAND BLING VALUATION $9,560
This ring is to die for! It is Everything you need in One!!
Filled with sparkling, nice quality Diamonds! It is your Engagement Ring, Wedding Ring and Eternity Ring all in ONE!!
The ring features a square mount in the centre with 9 x glorious diamonds set together that weigh a total of 1.05ct. It sits up really high with tapered baguette diamonds down the shoulders. Then, there is a diamond band attached to each side that are set with Round Brilliant Cut diamonds.
The overall impression is ... mind blowing and imagine the money you can save by buying all your marital rings in one!!
There is over 2 full carats of diamonds in this amazing ring (2.03ct) that are securely set in 9ct Yellow Gold. The diamonds are excellent quality and graded clarity SI2-I2 and colour H-K. They are clean, white and very sparkly as you can see by the photos.
This ring is massive! The band measures approx 1.5 centimetres across the front and approximately 6mm at the back and it is heavy, weighing 8.12 grams!! It sits 9.5mm high off the finger and it is a very solid and well made piece that is perfect for everyday wear.
This is a stand-out piece that will be noticed by everyone, and it requires a flamboyant, diamond lover to carry it in grace and style. It is a size 'Q' and it is easily resizable by your local jeweller.
Rings of this size and quality don't come cheap, but we are able to bring it to you at such a great price! Do your research and then come back here for the best deal!
sold out